I bought a Kay-Bar Becker BK-9 last year mostly for prep work for deer season, but also as a big-duty camp knife. I love the functionality of the knife itself, but the sheath was pretty much a joke. It's made of nylon webbing and, while it has some okay features (a pocket for sharpener, molle attachments, etc.), it really isn't ideal. Also, the blade coating makes striking a ferrocerium rod unworkable.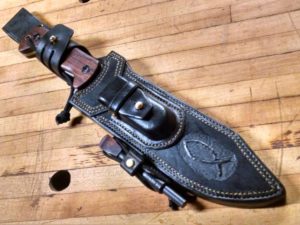 So, I decided to make some changes. I first ground off the blade coating, then, then fashioned new handle scales out of Cocobolo, an oily, water-resistant exotic hardwood. Then it was time to address the sheath. There are after-market sheaths for the BK-9, but they're either made of kydex, cordura, or a combination of the two. The other option is a custom leather sheath, but these seem to start at about $120, and go as high as $300+. Nah, I'm looking for a sheath, not an investment.
So I decided to make my own. This is my first real attempt at leather-working, but I think it came out okay. Some challenges. Some lessons learned. But definitely better prepared for when I make a Hedgehog Leatherworks style sheath for my BK-2.
Let me know what you think! Thanks!
Ka-Bar Becker BK9 Combat Bowie Fixed Blade Knife